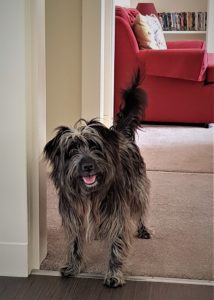 We want your dog's holiday to be as relaxing as yours, so you'll find an Adaptil plug-in in the dining room. We also provide a water bowl, poop bags and some doggie treats. Remember to leave the plug-in and water bowl behind!
When outside, please keep your dog on a lead; they can easily be distracted in a new place and the Cottage is near farmland, cliffs and open water. Your dog may be confused in a new place, so please don't leave it alone, either in the Cottage or your car.
In the cottage, we recommend your dog sleeps in its own basket or bed in the dining room. Please don't allow it on the furniture in the living room or into the bedrooms at all.
We provide poop bags and a covered bin for bagged mess. Please put the bagged mess in the green wheelie bin when you leave.
We don't charge extra for dogs because we clean and disinfect thoroughly anyway, and they are usually no extra work. We do reserve the right to pass on the costs of any excessive cleaning including the costs of dealing with fleas or parasites.
See our page What to do if things go wrong for details of how to contact our local vet.