Eating in, eating out
Eating in
Local fine foods and drink
J A Mackay in Thurso
local fine foods and drinks – great for a treat and great for gifts
4 Traill St,
Thurso
KW14 8EJ
Bin Ends in Wick
have connoisseur's collection of local and international wines and spirits
2 River St,
Wick
KW1 5EA
Stacks Deli  and Bakery at John o'Groats
have a delicious selection of cakes, traditional deli items and vegetables – good for vegans too!
John o'Groats
KW1 4YR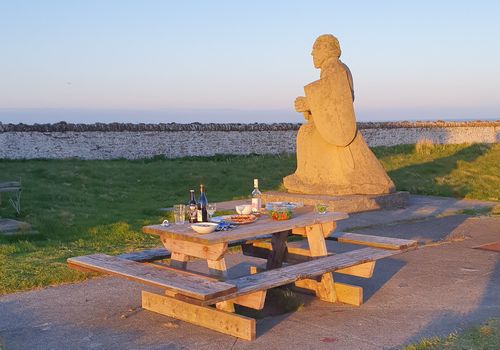 Groceries
Co-op
Angle Park
Thurso Road
Wick
KW1 5LW
Tesco Online
Have a click and collect service at the Wick superstore and will deliver to:
The Lighthouse Keeper's Cottage, Noss Head, KW1 4QT
Takeaways
Check Tripadvisor and / or Facebook for the latest on who's reopened and who hasn't yet.
Eating Out
It's hard for us to keep up with who's re-opened, so check out Tripadvisor for the latest updates and reviews.
We like to give special mentions to The Trawler in Golspie, The River Bothy in Berriedale,  Mackays Hotel  in Wick, and The Captain's Galley at Scrabster. But there are lots of other places we've not tried ourselves so check out the options online.